Today my MNT reform seemed to have died while connected to power. It was running but not in use.
I noticed that all power seemed to be gone, the keyboard LCD dark and the firmware controller unresponsive to any input, so I disconnected wall power and battery, then reconnected it to wall power. Normally this will start the firmware controller and the MNT logo will show on the LCD but nothing happened.
While doing this, I noticed that the board was quite hot but the heat did mainly come from the "big cube" labeled with WE 220 right next to expansion board. Sorry, I know jack **** about electrical components, hope this description is sufficient ;).
It was so hot I burned my self a little on it. I decided, maybe the system needs to cool down a bit and I waited till it did but it made no difference.
Edit 2: The quoted section is not the issue, see bnys's post below
While looking on the board for any trace off obvious damage that may cause the problem I discovered a oddity. R53 seems to not be correctly connected to both its pads. One side is soldered to R172 and the connection is really solide. This peace of the board has a light brownish tint and some residue on it. I think this could be a fabrication error but I'm not sure.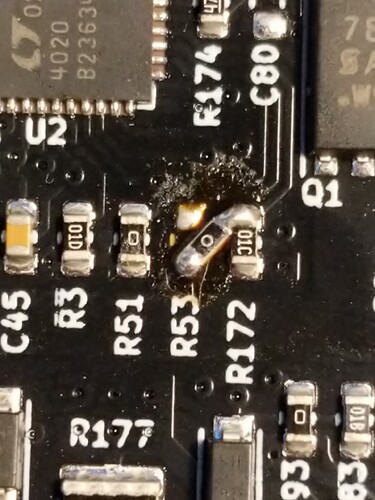 Some more Information:
Boots to emmc, from there to nvme
Emmc Image is reform system image V3, nvme image is V2
I had some thin plastic foam sheets between keyboard and main-board to dampen the sound of the keyboard. This may have hindered some heat dissipation.
If any of you or even @mntmn have an idea what the problem could be and if it is fixable I would be really happy to be able to resurrect my daily driver.
Edit: R53's placement existed even before the first boot.