Hi,
after reading this topic while also coming from using a Thinkpad T450s with the option of adding a miniPCI LTE modem and SIM card for mobile internet, I got motivated to mod my reform to have the same functionality.
TLDR; here is how my final result looks like: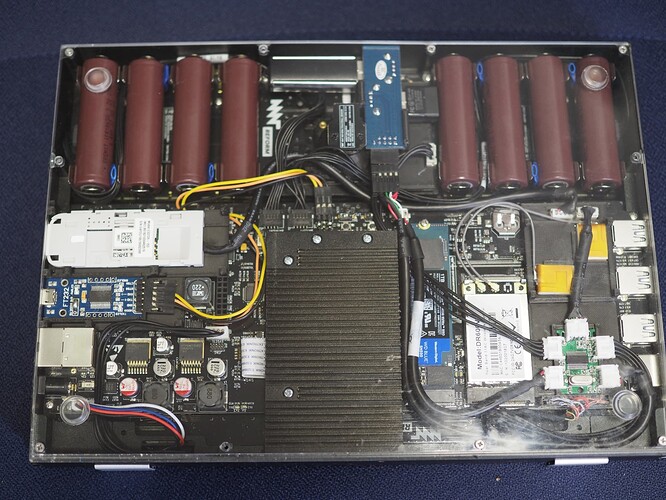 We cannot add an LTE minipcie card because there is only a single slot available that is already occupied by the wifi card. Finding a minipcie card that offers both wifi and LTE seems to be impossible. There exist pcie switches (splitters do not work because the reform only has a single 1x) which cost hundreds of Euros. There is also the problem of where to plug the SIM card.
So instead, I chose to add a USB LTE modem into the case. This also solves the problem of where to put the SIM card. But now the problem is, that the Reform only has two USB connectors on its motherboard which are already occupied by the keyboard and trackball. To attach more USB devices, we also have to add a USB hub into the housing.
To neatly install all the additional hardware inside the reform case I got inspired by how the transparent acrylic antenna holder used the two JST PH USB connectors on the board to keep the acrylic rectangle in place and 3D printed a bunch of additional shapes using the same principle to stay in place without glue or tape or screws: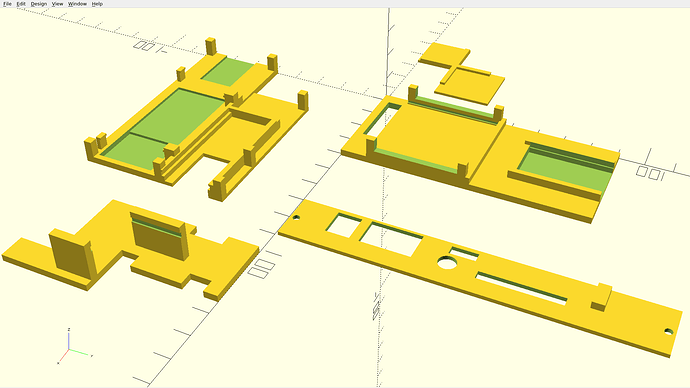 Here are the openscad sources for above five parts that I printed with PLA on an Ultimaker S5: carrier boards ($1) · Snippets · Snippets · GitLab
Top left: placed above the SD-Card slot and next to the Ethernet port. Includes clamps that fit a Huawei E3372 LTE USB stick after removing one of its plastic covers as well as rails into which a DEBO micro USB to UART adapter can be slid into. The little legs fix it in z-direction.
Top right: placed where the transparent acrylic piece would normally go using the same mechanism of using the JST PH connectors to remain in place. The small plastic piece can be slid into the bigger one and will hold a Laird antenna in place without needing to glue it (I don't like the non-reversibility of glue). At the other end, a no-name 4 port USB hub from China (very popular on ebay) measuring 19 times 29 mm can be slid into.
Bottom right: alternative side-panel including an additional hole for the USB UART micro-USB port as well as a small plastic nob holding the top-left part into place in y-direction.
Bottom left: placed next to the trackball and holding a board with two USB-A ports into place
Shopping list:
Buy more JST PH 4 plugs, sockets and crimps because it's easy to fail. The USB cables have to be soldered to the plugs in the following order: black (ground), green (D-), white (D+), red (+5V).
Originally I wanted to use the Nano Hub as a very tiny USB hub but that sadly has been sold out for months. Instead, I went with a cheap no-name USB hub with a FE1.1s chip in it. There are plenty of those on ebay and I got scammed twice in an effort to get one of those. An alternative is to buy the Manhattan USB Micro Hub for 9 USD and remove its housing. The board inside is only a few Millimeters larger. The bigger downside is, that then you have to throw the case away (and I dislike throwing things away) and that the legs of the JST PH sockets have to be bent just a little to fit where the actual USB-A ports were soldered before.
I will update this post with any questions you might be having. Thanks!