Hey all

DIY kit 157 checking in.
I received my reform mid week last week and got the chance to play with it over the weekend.
I've downloaded the reform v3 system image and flashed it to my SD card. I booted from the SD card and ran the reform-migrate encrypted Nvme command.
Booting from the Nvme with the SD card works well. However I want to use EMMC and no SD card. I flipped the switch on the SOM to off and now I boot into the recovery image.
From there I ran the reform-boot-config —EMMC Nvme. That worked fine, but on reboot I keep getting brought back to the recovery system image.
Due to the fact the Nvme is encrypted with luks, it can't find the Nvme drive. The boot scripts are looking in the unencrypted Nvme drive locations when they should be looking for the encrypted drive.
I've looked at the reform-init script and tried playin around with setting the BOOTPART and other variables to get it to work how I'd like but have been unsuccessful.
From reading other threads it sounds like I shouldn't have ran the reform-boot-config script?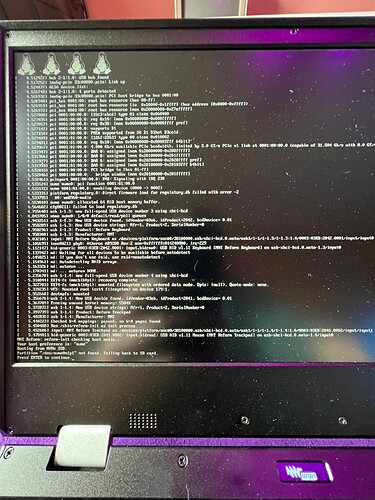 I'd also like to mention that although my SD and Nvme are flashed with the v3 image I think my EMMC is running the v2 recovery image.
I've attached an image of the error I get upon booting. So this post is asking for help with how to get past this step. I need the EMMC to boot my encrypted Nvme, when it treats it like an unencrypted Nvme.

So far I'm loving my reform and can't wait to contribute to the community!
The only downside I've experienced is that my display arrived broken. I think the screws were tightened too much during assembly prior to me receiving it. I'm lucky it's usable for now. I'm sure support will help me out when they see my email

All in all the year long wait was well worth it! Such a beautiful device and cool community