Hello all. Yesterday I constructed my DIY Reform to great success, booted up as it should and everything seemed peachy. However, this morning I went under the hood to re-seat my WiFi card and something happened. After making sure the machine was powered down & not plugged in, I unscrewed the bottom plate. Before touching any internals, I started to remove the batteries, beginning from the right. I removed all the batteries on the right side with no issue, but when I started to remove the batteries from the left side, one stuck for a second and then I saw smoke appear. I quickly removed the battery before anything else happened but it seems part of my board is now charred.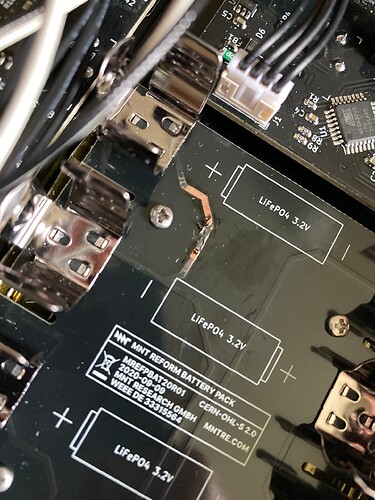 Thankfully the machine still works, but now my battery status complains at me (pic below because new account won't allow 2 images in 1 post).
So, what are my options here? Did I do something wrong when removing the batteries?